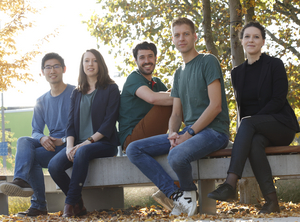 As a postdoc at IMB, you will work in one of over 20 research groups participating in the programme. You will have access to modern research facilities and receive a broad range of support including supervision, training, career development opportunities, a strong and lively community and a dedicated IPPro Office. Moreover, in the IPPro you will have access to a comprehensive range of advanced training & career development opportunities to further your career. These include:
Scientific events, courses & seminars
Technical training
Professional skills training
Career development & mentoring
Find out more below and discover the opportunities offered in the IPPro.
As a postdoc in the IPPro, you will work on exciting research projects within the lab of one of our participating groups, and receive day-to-day supervision and advice by your group leader. You can also seek co-supervision by a group leader external to the IPPro who can e.g. provide you with support with new technologies and advise you on your research project and scientific advancement.
IMB has a dedicated Grants Office that will assist you with applications for fellowships and grants to support you & your research.
In the IPPro, you will be part of an international and interdisciplinary community with postdoctoral researcher currently from more than 15 different countries. The postdoc community and the IPPro Office organise regular scientific and social events to promote scientific exchange between IMB's junior researchers.
The IPPro coordinator manages the day-to-day business of the IPPro. They assist you with your career development and always have an open ear for issues you encounter in regards of supervision, mental health, career planning or training you would like to receive. They also organise all the great training and networking opportunities in the IPPro.
Twice a year, the IPPro community gathers for the postdoc general assemblies, during which they also elect the IPPro representatives. The representatives are in close contact with the IPPro coordinator and communicate issues and possible improvements of the IPPro. This way we work together to make the IPPro better. As an IPPro representative, you also have the chance to organise seminars, career events, the biennial Postdoc Symposium, the biennial postdoc retreat and other social events.
As an IPPro postdoc you have access to the IMB Core Facilities at IMB employee rates. The IMB Core Facilites provide you with the additional expertise and specialised equipment you need in order to drive your research project forward.
As a postdoc in the IPPro, you will be member of a community of about 40 postdocs from more than 15 countries. You will also be part of a broad international community including IMB and its International PhD Programme, in which groups from three different institutions participate.
The postdoc community and the IPPro office organise regular scientific and social events to promote scientific exchange between IMB's junior researchers. Moreover, the Rhein-Main area is home to a number of excellent research institutions, which together promote a vibrant and dynamic scientific atmosphere and fosters a high level of scientific exchange and collaborations. Regular networking events include:
Postdoc Symposium: every two years IMB postdocs meet with other postdocs working in the life sciences in the Rhein-Main area, for a day of scientific exchange and to explore career development opportunities.
IPPro Retreat: organised off-site by IPPro postdocs, it features a visit a scientific institution or company. During the one day event, you will listen to and participate in scientific presentations and discussions with your fellow postdocs and external speakers, and participate in team-building activities.
Social events: if you feel like organising a range of social activities in IMB's spacious Science Lounge or in the city of Mainz, you can count on the support of the IPPro office. These events organised by and for IPPro postdocs create a tight-knit community where you can not only share research ideas but also other interests and experiences during your life as a postdoc in Germany.